Mentor Guide: Guided Mentoring High School Program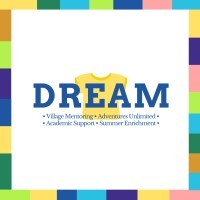 The DREAM Program, Inc.
middlebury, vt, usa
Posted on Thursday, August 3, 2023
Mentor Guide: Guided Mentoring High School Program (Various options for hours of service are available.)
Interested in making an impact in the lives of high school and elementary aged youth? Join DREAM's Guided Mentoring program and become an influential figure in the lives of youth. As a Mentor Guide in this two-tiered, cross-age Mentor-in-Training program you help provide high school students with the tools, resources, and confidence to provide mentorship to elementary school-aged youth.
The Experience of Service as a Mentor Guide:
In collaboration with the Guided Mentoring team, you will focus on engaging and supporting around 5-10 high school mentors in the curriculum and practices of the Guided Mentoring program. You will help plan and facilitate lessons and activities which are fun, play-based, and help youth dream big. These activities will be delivered through weekly school day classroom programming and out of school time adventure experiences. Our objectives include helping to prepare high school youth to have effective, impactful mentorship relationships with elementary age youth, and provide opportunities for them to strengthen and expand their sense of place, identity, and meaning and purpose.
Flexibility exists in the breadth and depth of the Mentor Guide's role and responsibilities in partnership with the regional manager and school personnel partners. You will also assist with planning and activities for Summer, weekends, and other times that are carried out during our "out of school hours" that are created to maintain relationships and expand horizons.
Primary Objectives of Service as a Mentor Guide:
You will create powerful, developmentally appropriate mentoring relationships with high school mentor groups and individual high school mentors.

You will attend weekly programming sessions with mentors and mentees.
Secondary Objectives:
You will foster a bonded, positive, and supportive community of high school aged mentors and elementary aged mentees.

You will ensure thoughtful and thorough curriculum lessons and activities, incorporation of the Search Institute's Developmental Relationships Framework and Mentor's Elements of Effective Practice, and formal reflection assessments. These will help each high school mentor to be prepared, trained and ready to provide a safe and culturally appropriate experience to elementary school aged mentees.

You will ensure, primarily through curriculum lessons, activities, and reflections, that high school mentors have a strong understanding of the four curricular themes: mentoring, identity, sense of place, and meaning & purpose.

You will facilitate development of high school mentors' organizational and time management skills.

You will communicate with mentors weekly.

You will help ensure that thorough communications and dialogue with DREAM youth and their families support them in having agency and influence over their DREAM experience.
Additional Objectives:
Contribute to building connections and relationships with parents and community partners.
Required Qualifications:
Commitment to the entire service term.

Commitment to the mission of AmeriCorps and DREAM.

Desire to enhance existing skills and develop new skills necessary for service.

Commitment to serve as a role model for youth.

A passion for supporting the ongoing work around Diversity, Equity and Inclusion.

A

dedicated personal, off site, non DREAM supported space for work, with:

An internet connection capable of easily handling Google Workspace apps and specifically, a Google Meet.

Access to resources necessary to support your remote work/service experience (electrical power outlet to keep devices charged, reliable wifi connection that can connect with our cloud-based softwares).

Ability to regularly meet in person with your team or your service assignment in their assigned location (including responsibility for transportation to and from).

Access to a reliable phone.
Preferred Qualifications:
Valid driver's license and insurance

College Degree and/or Post Secondary Education Certification or Training.

18+ years old with a clean driving record

Youth one-on-one and group facilitation experience

Interest and investment in youth development

Ability to work as a member of a team

Commitment to holding unconditional positive regard for DREAM youth
DREAM AmeriCorps Benefits:
A living stipend is provided to you in biweekly payments. The stipend amount is dependent upon your weekly hours commitment, which can be either part time or full time.

AmeriCorps members are also eligible for (based on total annual income):

Supplemental Nutrition Assistance Program (SNAP) (food stamps)

Child care assistance

Medicaid

Student loan deferment (forbearance)

Other publicly-funded benefits, such as heating and utility assistance.

Upon the completion of the service term, AmeriCorps members are eligible to receive the

Segal Education Award

, which can be used to pay education expenses or repay qualified student loans.

As an AmeriCorps member at DREAM, you will have the additional support of a DREAM AmeriCorps Director to help you navigate your service term and apply for publicly funded programs.

If you engage in work-related travel outside of a commute, DREAM will provide reimbursement for mileage.
Work environment: This position operates in multiple spaces. The spaces included are primarily an indoor/outdoor environment with active children, within the school communities we serve, in public/field trip spaces in the local area, and occasionally in a workplace environment for planning and meetings. You may also be visiting our rustic Camp DREAM. The role also may at times utilize equipment characteristic of an outdoor and indoor youth day camp (pop-up shade canopies/tents, hand tools, activity supplies, food preparation equipment, storage spaces and sports equipment/toys). This role routinely uses computers, as well as phones and printers for communications and activity planning. During the summer, conditions will be warm and activities will often be held outdoors.
Physical demands: The physical demands described here are representative of those that must be met by an employee/member to successfully perform the essential functions of this job:
This position requires comfort working in outdoor environments, regardless of the weather. This position is very active and frequently requires standing, walking, bending, kneeling, stooping, crouching, crawling, and climbing.

While performing the duties of this job, the employee/member is regularly required to communicate with individuals who talk and hear.

The employee/member may occasionally lift and/or move items over 50 pounds.

While performing the duties of this job, the employee/member is regularly required to observe and comprehend using vision abilities that include close vision, distance vision, peripheral vision, depth perception and ability to adjust focus.
Travel: Travel includes local travel during the work hours described. Out-of-the-area and overnight travel may be occasionally expected.
AAP/EEO Statement: The DREAM Program is an equal opportunity employer and an incorporated 501(c)3 charitable organization. The DREAM Program prohibits discrimination and harassment of any type and affords equal employment opportunities to employees and applicants without regard to race, color, religion, sex, national origin, disability status, protected veteran status, or any other characteristic protected by law.
At will employment: The DREAM Program is an at will employer. Employment with The DREAM Program is voluntary and is subject to termination by you or The DREAM Program at will, with or without cause, and with or without notice, at any time. The policy of employment-at-will may not be modified by any officer or employee.